Community Foundation of NCW Honors Healthcare Heroes at Central Washington Hospital
This week, frontline staff at Central Washington Hospital received a big hug from the community—figuratively speaking, of course!
Hugs for Healthcare Heroes is a grassroots effort started by Mandi Burton-Carter, a hospitalist at Confluence Health, and her friend Claire Oatey, Director of Community Grants at the Community Foundation of North Central Washington. Together, this industrious pair rallied friends and community members to honor healthcare workers that bravely and faithfully serve our community in the face of the pandemic.
The idea behind Hugs for Healthcare Heroes was simple.
Each frontline healthcare worker in the region would receive a Hug in a Mug—mugs stuffed with gift cards to locally owned businesses, treats, and hand-written notes of appreciation from thoughtful community members. These Hugs in a Mug are meant to bring some cheer and encouragement to those that have been battling the COVID-19 pandemic at Confluence Health, Cascade Medical Clinic, Columbia Valley Community Health, and Lake Chelan Community Hospital.
On Monday, Mandi Burton-Carter and Confluence Health leadership distributed the first round of Hugs in a Mug to 510 Central Washington Hospital staff, including those in the Intensive Care Unit, Emergency Department, Progressive Care Unit, Rehab Department, Respiratory Care Unit, Inpatient Lab, Resource Team, and Environmental Services. Employees were moved by the outpouring of support from the community and excited to spend their gift cards at local businesses.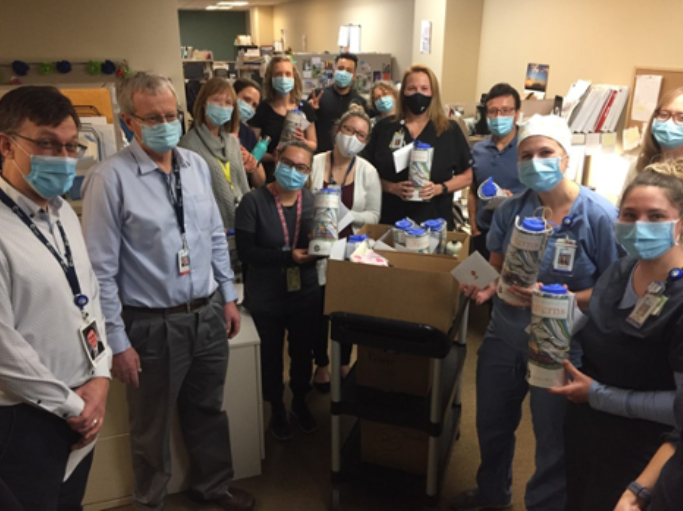 Hugs for Healthcare Heroes was made possible by the Community Foundation of North Central Washington. They set up a special fund for donations and continue to publicize the project and collect notes of encouragement from the community. We cannot thank them enough for their leadership and support!
We'd also like to thank the Hugs for Healthcare Heroes committee, a team of local volunteers that donated a big part of their weekend to help make the Hugs in a Mug for Central Washington Hospital recipients.
A second distribution of mugs to even more healthcare heroes is in the works. To find out more about the project, including how you can help, visit: https://cfncw.org/hugs/.
Thank you, Healthcare Heroes and Community Foundation of NCW!!!!
---
Back to all news