Expressions Gift Shop Volunteer Spotlight: Loretta Fischer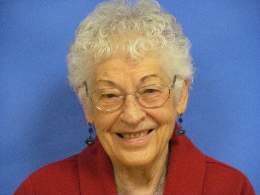 First and Last Name: Loretta Fischer
How long have you volunteered for the gift shop?
5 years
What is your connection to the Wenatchee Valley?
I was born in Iowa and moved here at age 6. I graduated from Wenatchee High School in 1946 and raised my family here. Wenatchee has everything I need!
Why do you volunteer/what is your favorite thing about volunteering at the gift shop?
It's therapeutic—it makes me feel good. I love working with my daughter Adele [Adele is the Gift Shop Manager].
What is your favorite product the gift shop carries and why do you love it?
I love everything Adele buys.
When you aren't volunteering at the gift shop, what do you like to spend your time doing?
I spend my free time doing picture puzzles, watching Hallmark movies, and talking with friends on the phone. I also love taking care of my home.
Fun fact:
Loretta is one of our oldest volunteers at age 93!
Expressions Gift Shop is a full-service gift shop featuring a well-curated selection of flowers, candy, home décor, plush toys, skincare products, clothing, and other gifts. It is located in the Central Washington Hospital lobby on the main floor, just inside the front entrance.
Expressions is a nonprofit store of the Confluence Health Foundation. It is staffed by dedicated volunteers, and proceeds benefit Confluence Health.
---
Back to all news