Expressions Gift Shop Volunteer Spotlight: Ms. Peg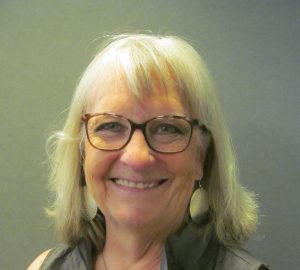 Name: Peggy Dreisinger
How long have you been volunteering at Expressions Gift Shop? Since 2017
What is your connection to the Wenatchee Valley? I started vacationing in Chelan in the early 1970s; our family owned a timeshare at Wapato Point from 1987 to 2016. My husband and I picked the Wenatchee Valley as our retirement home because it ticks off all the boxes.  Great weather, small town appeal, proximity to great services like healthcare, shopping, and an airport.
Why do you volunteer/what is your favorite thing about volunteering at the gift shop? I volunteer because I like giving back, and in fact, I feel it is an obligation. The gift shop is a perfect way to volunteer because it's a warm friendly environment that provides a great experience to all the customers, including Confluence Health staff. My favorite thing is engaging with our customers.
What is your favorite product the gift shop carries and why do you love it? It's hard to pick a favorite product, but I have a weakness for accessories and jewelry. My diminishing bank account is proof of that! Our shop is a place where you can find well priced items that you don't find anywhere else.
When you aren't volunteering at the gift shop, what do you like to spend your time doing? I love to travel most of all. I also volunteer on another board of directors and enjoy reading, getting together with friends, and entertaining.
Expressions Gift Shop is a full-service gift shop featuring a well-curated selection of flowers, candy, home décor, plush toys, skincare products, clothing, and other gifts. It is located in the Central Washington Hospital lobby on the main floor, just inside the front entrance.
Expressions is a nonprofit store of the Confluence Health Foundation. It is staffed by dedicated volunteers, and proceeds benefit Confluence Health.
---
Back to all news