Final Round of Hugs for Healthcare Heroes Distributed at Confluence Health: Thank You, Community!
We were thrilled to be able to honor an additional 183 Healthcare Heroes last week for a grand total of 917 Hugs in a Mug distributed at Confluence Health since the beginning of the year.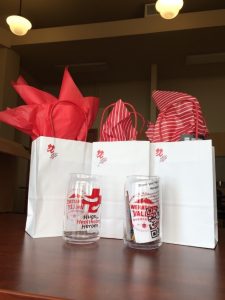 Hugs for Healthcare Heroes is an initiative started in December 2020. The goal of the project was to honor healthcare workers on the frontlines of the pandemic with Hugs in a Mug – mugs stuffed with gift cards to locally owned businesses, treats, and hand-written notes of appreciation from thoughtful community members. These Hugs in a Mug are meant to bring cheer and encouragement to those that receive them. The third round was distributed to employees that played a critical role in protecting the health of patients, providers, and the community behind the scenes, like those in food service, laundry, and case management. We were also able to recognize Confluence Health employees and volunteers that had logged over 100 hours at the vaccine clinics before the end of March 2021.
This round was made possible by generous support from the Community Foundation of North Central Washington and donors to the Confluence Health Foundation. In addition, we partnered with Wenatchee Valley Brewing, who helped us make this third and final round extra special by donating 164 co-branded pint glasses to the cause!
The Hugs for Healthcare Heroes project showed us how powerful philanthropy can be when we keep our gifts close to home. We are so grateful for the leadership of the Community Foundation of North Central Washington, who served as the steward of gifts from the community.
The outcomes of the project are heartwarming. In total:
Over $37,500 of cash donations were raised for the Hugs for Healthcare Heroes project.
31 businesses donated items, coupons, and free services.
In total, 1,696 Healthcare Heroes at Confluence Health, Columbia Valley Community Health, Cascade Medical Center, and Lake Chelan Community Hospital were honored by the effort.
Cumulatively, the project benefited over 90 local businesses. The goal of the program was to prioritize locally owned businesses hardest hit by the pandemic, including restaurants, entertainment venues, and retails shops, with a focus on women and minority-owned businesses.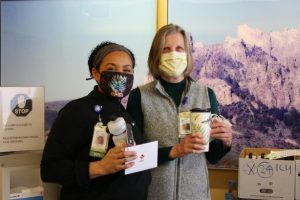 There were so many people, organizations, and businesses that contributed to this project's success. We're grateful to all those who made donations, decorated mugs, and wrote notes of encouragement; the volunteers that took time out of their busy days to fill the Hugs in a Mug; and the coordinators of the project, Mandi Burton-Carter and Claire Oatey, who tirelessly worked to ensure local Healthcare Heroes got the recognition they deserved. To all of you that helped this project succeed, thank you!
---
Back to all news