First Edition of 2021 Your Local Cancer Care Newsletter Highlights Healthcare Access Issues
The first edition of the Your Local Cancer Care Newsletter features a story about the Shank family of Moses Lake.  Dorian Shank, a mother, donor, and breast cancer survivor, often rode on the People for People Health Express shuttle that drove her to and from her cancer treatment appointments in Wenatchee five days a week over a period of six-weeks.
The story highlights the importance of having access to high quality healthcare close to home. It also demonstrates the importance of having access to resources that connect our patients to the care they need when it's not available in the community. Building a cancer treatment center in Moses Lake is a huge step in meeting the healthcare needs of patients in Grant and Adams county, but the work doesn't stop there.
Transportation has long been a barrier to healthcare for many of our patients living in rural communities. In 2017, the Confluence Health Foundation joined the NCW Mobility Council, a group that seeks to improve the wellness of our communities and vulnerable populations in Chelan, Douglas, Grant and Okanogan counties by increasing access to mobility services. As part of this work, the Council conducted a community survey in 2018 that aimed to identify the largest transportation barriers facing residents of NCW. One surprising finding was that the most frequent destination accessed through public transportation was medical care (see image; full survey results available here). Public transit is a lifeline for many of our patients.
This has serious implications in the face of COVID-19, where there is a greater reluctance among people to use public transit. The Foundation continues to maintain an active role on the Council and seeks to pursue all efforts that can expand access to healthcare for our patients throughout the region.
In the fall of 2020, leadership from the Foundation and Confluence Health signed a letter to the Link Transit Board of Directors in support of a new public transit option for rural and underserved residents. This program would enable eligible individuals to identify a trusted member of their network to provide a ride to key community services. The driver would receive reimbursement through the new program. This model, which has been successfully used throughout California, expands transportation options for those that live too far away from public transit routes and those who are too frail to use public transit safely. We are proud to be a part of efforts throughout the region that improve access to healthcare.
Check out the latest version of the Your Local Cancer Care Newsletter here.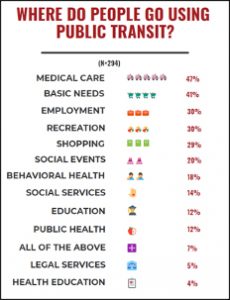 ---
Back to all news