Foundation Nets a Big Win
The 23rd Annual Armada Golf Classic was canceled this year due to the COVID-19 pandemic, but that didn't stop our amazing sponsors from rallying behind our cause!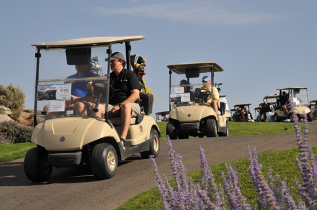 Proceeds from the tournament had been slated for COVID-19 response at Confluence Health. These funds offset COVID-19 treatment costs, purchase critical medical supplies for healthcare providers, and help meet the demands associated with response to the pandemic. The golf tournament is a key fundraiser for the Foundation and an enjoyable day that we share with supporters.  We were disappointed to cancel the event.
Despite calling off the day on the links, many of our sponsors opted to donate in lieu of their sponsorship. Combined, we were able to raise over $64,000 towards COVID-19 relief!
Sponsors-turned-donors included:
Armada Corp
Wenatchee Valley Medical Group
Healthcare Resource Group
Moss Adams
Fidelity Investments
Washington Capital
Parker, Smith & Feek
Physicians Insurance
Stantec
Mercer
Bank of America
Stratum + Lockton
Key Bank
Rimmer & Roeter Construction, Inc.
Washington Trust
Cashmere Valley Bank
Intalere
Pom Arleau
We are beyond humbled by the generosity and sportsmanship of these organizations. Their donations will go a long way in helping Confluence Health respond to the COVID-19 pandemic, which continues to challenge our healthcare staff, operations, and finances. We thank them—and all of our donors—for their support.
---
Back to all news