Local Winery Pays Tribute to Former Confluence Health Employee, Winemaker
Mike Scott, owner of Martin-Scott Winery, has announced he will release a 2019 Tribute Rosé of Sangiovese honoring his late wife, Judi Scott. For many Confluence Health employees, that name may sound familiar. Judi was a dedicated Central Washington Hospital employee working in various roles in the laboratory for over 30-years.
Judi and Mike started Martin-Scott winery over twenty years ago. Each used their talents to build their new business into an award-winning winery and a staple of the regional wine industry.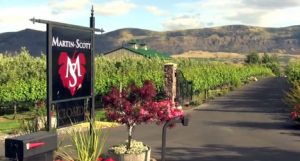 After Judi's unexpected passing, Mike wanted to pay tribute to his late wife. He crafted a beautiful blush wine that Judi would have loved and will donate the proceeds from sales to the Confluence Health Foundation in Judi's memory.
We are honored to be a part of Martin-Scott Winery's tribute to Judi Scott – a faithful donor, a colleague, and an inspiring person in so many ways.
Learn more about the 2019 Tribute Rosé of Sangiovese, Judi, and the Martin-Scott Winery in Rick Steigmeyer's article "Tribute to a Great Partnership" in the July/August 2020 edition of Foothills Magazine.
We will provide updates about the release date of the Tribute Rosé of Sangiovese, when more information is available.
---
Back to all news