That's a Wrap! Thank you NCW!
Nearly three months ago, we asked the community to donate any personal protective equipment (PPE) they had available to help protect frontline healthcare workers and local caregivers.
PPE is a critical component in reducing the spread of diseases like COVID-19 between sick patients and the healthcare workers that care for them. Significant disruptions in PPE production and skyrocketing Coronavirus infection rates across the globe created a dangerous shortage of medical grade masks, gloves, surgical gowns, and face shields.
In early March, Confluence Health leadership stared in the face of uncertainty as Coronavirus cases began to rise in Washington. Beyond the logistical concerns related to caring for an influx of patients, administration recognized that without a sufficient supply of PPE staff, providers, and patients would be put at risk for contracting the virus.
That's when the residents of North Central Washington took action.
Within days of publishing a request for PPE donations, local businesses and organizations, as well as individual donors from throughout the region responded to our call. Some people brought what they had in their homes, even if it was just a few respirators. Others, including local businesses Harbor Freight and Bitmain, donated pallets of PPE.
In addition to receiving manufactured PPE, community members began bringing us hand-sewn masks, gowns, and caps. Each donor added personal touches to their creations. Some used their own designs and others tweaked popular patterns to make use of the materials they had available. Community members crocheted tiny straps of fabric with buttons called ear savers to help reduce the discomfort of masks. Tech-savvy craftsmen created face shields with 3-D printers. Everyone was doing what they could to meet the needs of frontline workers in North Central Washington.
Once the donated PPE was sorted and inventoried, Foundation staff worked with the Confluence Health Hospital Incident Command System (HICS) team to distribute the PPE. Over the collection period, 50 local facilities received PPE, including long-term care and skilled nursing facilities, shelters, healthcare partners, and other organizations that serve high-risk and vulnerable populations.
Those that donated PPE to the Confluence Health Foundation did it out of the kindness of their hearts. Because of our donors, we've met our goal for the 5,000-mask challenge launched in May. Cumulatively, our community has donated over 189,000 pieces of PPE. While the COVID-19 pandemic still threatens global health, Confluence Health is more equipped to deal with the ongoing challenge because of the generosity and creativity of our local community.
New guidance from Governor Jay Inslee requires that employees wear masks unless they work alone. The World Health Organization and Centers for Disease Control and Prevention also encourage mask use to curb the spread of COVID-19. As our region begins to expand economic and social activity, more people will need masks to protect themselves from the Coronavirus.
At this time, we are encouraging our talented team of mask makers to help other organizations in need. Columbia Valley Community Health is conducting a mask drive for kids, so that each school-age child will have a mask when they return to the classroom. You can find more information here: https://cvch.org/mask-drive.
We can't thank our community enough for the selflessness they demonstrated in our time of great need. No doubt the actions our donors took have had a significant impact on reducing COVID-19 rates in our region. We are grateful to belong to this community.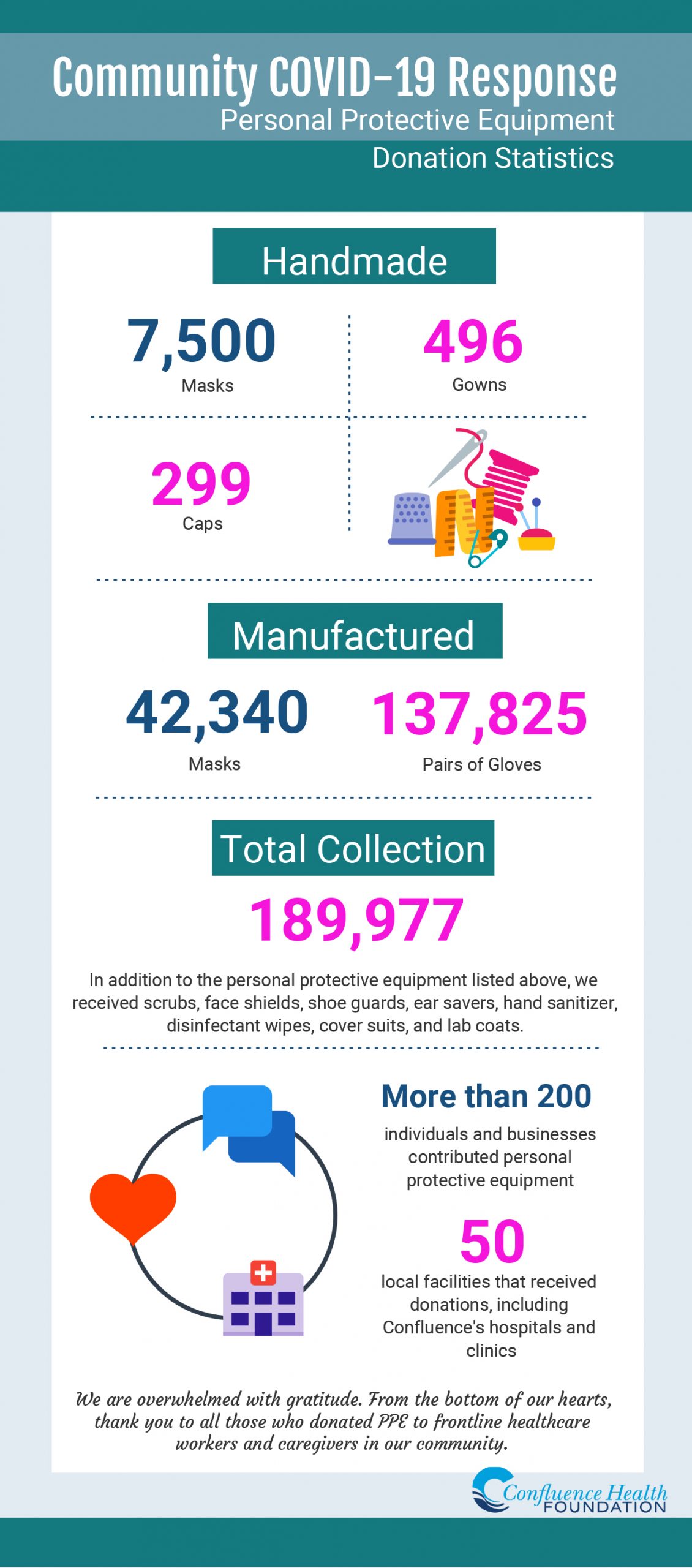 ---
Back to all news