The Confluence Health Foundation Teams Up with Wenatchee Valley College to Promote Local Educational Opportunities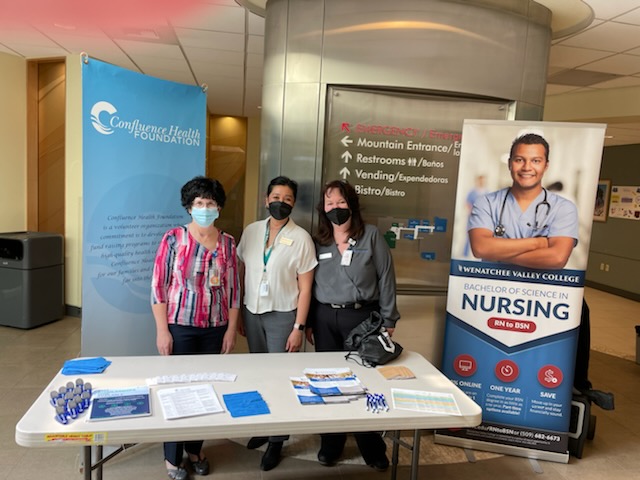 In March, the Confluence Health Foundation's Karen McCart teamed up with Wenatchee Valley College faculty Meleah Butruille and Dean of Allied Health, Jenny Capelo, to promote local healthcare degree programs and scholarship opportunities.
The ongoing development of a qualified, capable healthcare workforce is essential to Confluence Health's ability to provide quality healthcare to its patients. North Central Washington is fortunate to have access to robust educational resources, including those offered by Wenatchee Valley College, Yakima Valley College, Big Bend Community College, and others. However, for many students, the cost of attending school can delay or even derail career aspirations. That's why scholarships are an essential part of workforce development. They provide financial assistance that can reduce barriers to degree attainment.
The Confluence Health Foundation offers several academic scholarships to employees and community members pursuing degrees in healthcare. Applications are accepted online from March 1 – 31 every year. This year's scholarship applications are under review and decisions should be made by late May. Typically, the Foundation provides awards between 30-45 scholarships to deserving students in Chelan, Douglas, Grant, and Okanogan counties. Many of the recipients are pursuing a degree at Wenatchee Valley College. Current degree offerings include nursing, allied health, medical or nursing assistance, lab technology, and pharmacy or radiologic technology.
We're proud to stand beside Wenatchee Valley College and our other academic partners in our efforts to promote the growth and development of students seeking healthcare degrees.
---
Back to all news