Healing Garden Update
The healing garden at Central Washington Hospital is in full bloom!
The garden looks particularly splendid this month. The established dogwoods and rhododendrons were pruned last summer to revive their shape and remove dead branches. This spring, they are full of gorgeous, bright flowers and new growth.
The older plants aren't the only stars of the show. The potted plants, hostas, hellebores, and new shrubs are thriving despite the record-setting heat of the summer and cold winter. Plants that didn't survive have been replaced, and a few new species were added to the garden, including a unique Japanese maple variety called Moonrise, bergenia, and yellow heuchera.
An old garden adage claims that the first year a garden is planted, it sleeps. The second year, it creeps, and the third year the garden will leap. If this year's display is only the beginning, it will be a stunning legacy that will continue to honor those that faithfully serve the healthcare needs of this region.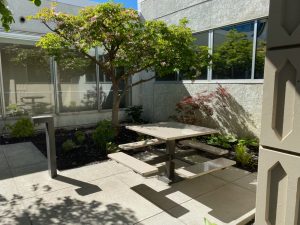 The final remaining element of the garden is the dedication and donor wall. The anticipated timeline for installation is July of 2022. The web-based donor wall, which includes the individuals our donors chose to honor with their gift, is live and accessible here.
You can view some updated "before and after" photos here. However, cameras hardly do the space justice. Stop in to see the garden for yourself the next time you're at Central Washington Hospital.
---
Back to all news